Hello everyone 😁
Chative.IO is back with the latest upgrade to make your omni-channel messaging experience better than ever before. Whether you're a newcomer or a long-time user, don't miss our latest release! It's packed with new documentation and important bug fixes to help you make the most of Chative!
Enable Our Features Easily With New Docs
Get all the information you need at your fingertips.
After a wave of new features and improvements, we've finally delivered a set of fresh docs. Every piece of information syncs seamlessly with our latest web app version.
Plus, categories are now neatly organized. We've grouped related information, so you won't have to search for scattered bits and pieces. It is easier for you to navigate through essential steps and missions, helping you get started and achieve your goals.
Dive in to learn about using AI Assistant, working with APIs, creating an effective Knowledge Base, and optimizing your workflow here!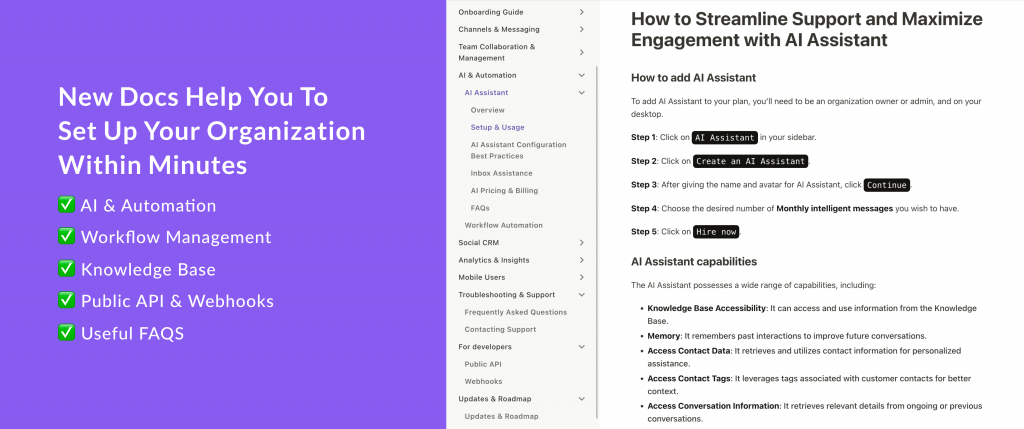 Strengthen Data Security
We take security and privacy issues very seriously.
Only you and authorized members within your organization can manage and control your customers and conversations.
We've added an extra layer of security to your conversations, and continuously enhance security across all aspects of our app to ensure the protection of your data.
Minimize Interruptions
Your feedback matters, and it led to this immediate bug fix. Previously, some users encountered loading screens and timeouts.
We've taken a deep dive into the issue. No more waiting around; you'll enjoy the app and its features without any delays.
Switch Organization Effortlessly
Switching between organizations is now smoother than ever. When you switch to a new organization, the app will only display conversations relevant to that organization. Say goodbye to confusion and access to previous conversations.
What's next?
Here's a sneak peek at our upcoming WhatsApp integration:
Send and receive messages from WhatsApp and your existing channels, all in one place.
View and compare conversation traffic from WhatsApp with other channels.
Manage chats from as many WhatsApp Business numbers as you want, not limited to just one.
🥳 We hope these changes enhance your journey with Chative.IO and lead to more productive interactions. We're committed to providing you with better tools and resources. Thank you for being a part of our development journey!