🤔 Have you or your team members had to search for information from many sources such as old emails, company documents, or shared folders?
🤔 When you can't find the necessary information, do you ask for help or send messages to your colleagues, even if it interrupts their workflow?
🤔 And do new employees spend a lot of time gathering knowledge from various sources before they can assist customers?
Over 2 years of developing Chative.IO, we realize that fragmented data is a significant obstacle for long-term growth of businesses. Important information is scattered across different systems, files, and departments. A report by McKinsey Global Institute showed that an average employee spends up to 35% time of workweek looking for company information. That does not only affect day-to-day operations but also impact the training process for new employees.
Fragmented data hinders productivity, results in longer customer waiting times and decreased satisfaction. Inconsistent data and and outdated records may lead to inaccuracies in customer support process. As our goal is delivering powerful solutions for businesses, we really understand the need to implement an effective data management approach. That's why we dedicated a significant amount of time and effort to develop Knowledge Base.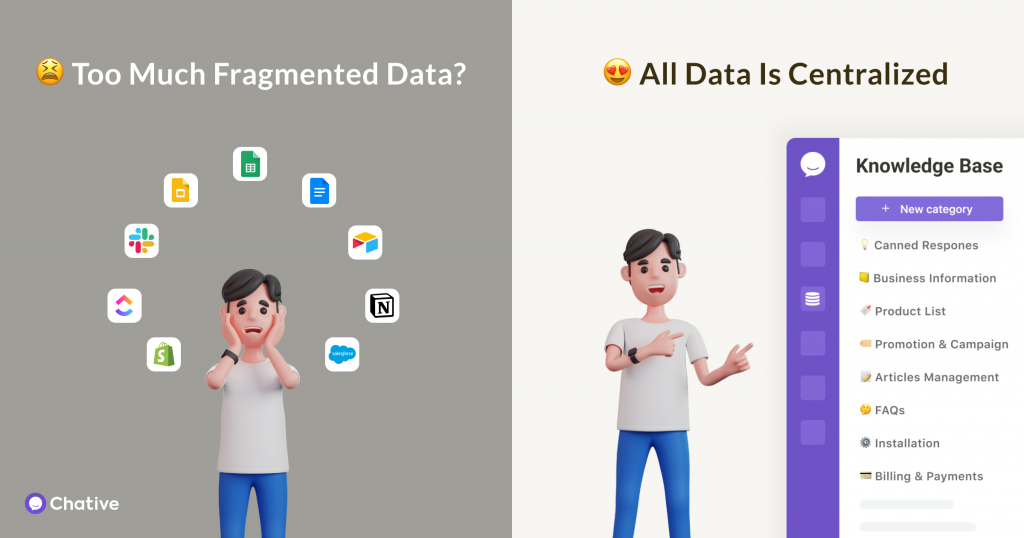 Why Knowledge Base is a must for your business?
Knowledge Base is a centralized space where all business data is stored, organized, and accessible to both AI employees and your team members.
With Knowledge Base, you and your team members don't have to search through multiple sources. Instead, all information you need is stored in one place, ensuring accuracy and consistency, saving valuable time and boosting productivity.
👀 Let's have a glance at our Knowledge Base:
Because this is designed for you to use every day and for long hours, we want you to take pleasure while reading information, and stay inspired at work. You can easily use Knowledge Base just like other familiar softwares such as Microsoft Word.
Clear categorization: you can create categories and subcategories, organize data in a logical and structured manner. Moreover, you can copy and paste data to effortlessly transfer information from external sources, or share data across different sections.
Flexible formatting and styling options: choose the format you prefer including fonts B i U, headings, lists. An intuitive data presentation helps you focus on what you need.
Customization: drag and drop blocks, move up/down and delete blocks, allowing you to seamlessly customize the layout of pages, and decide what information is important.
Multimedia integration: support multiple types of data such as texts, images, videos, attachments.
Effective Data Management Solution For Your Business
We believe that businesses should have full control over their important data. The more comprehensive the Knowledge Base, the richer the AI Agent's knowledge to provide detailed customer responses.
We're here to suggest some core information that you can include in your Knowledge Base:
Company information: mission, vision, and values to help new employees understand your business and ensure existing members stay aligned with your company's spirit, maintaining a consistent and positive brand image.
Customer policies: returns, exchanges, and refund policies your members will need to handle customer inquiries confidently.
Company policies: Terms of Service, Privacy Policies for your support team to establish trust with your customers.
Process documentation: onboarding process and employee directory to ensure a smooth transition for new hires and easy access to team information.
FAQs: access to frequently asked questions within clicks, empowering your team with instant answers and saving valuable time when assisting customers.
Products catalogs: instead of memorizing every item, now you have your lists of products instantly to provide personalized customer assistance and increase upsell opportunities.
Promotions and campaigns: highlighting ongoing promotions and campaigns to ensure that your team stay up-to-date with marketing strategies, and maximize sales opportunities.
What can you expect?
AI Agent and your team members can seamlessly
Access company information from the Knowledge Base
View customer details from the contact list
Operate seamlessly through Smart Workflow
All within the Chative.IO platform. Our mission is to help your business achieve operational excellence and drive rapid growth with minimal overhead costs.
If your business is seeking a holistic and scalable solution, supported by a dedicated team, Chative.IO is here for you. Contact our sales team for a specialized consultation, or sign up to experience the most powerful features of Chative.IO completely free for 30 days. We always value your ongoing support, feedback and suggestions, and wish to grow together in this challenging landscape.