TL;DR
Four core features were released, marking a significant step on our roadmap:
First off, we call this release of Chative, version 1.0, a significant milestone. Why? Over the past 02 years, we've gone through many versions, starting from humble beginnings with 0.1.1 and progressing through 30 iterations before finally reaching this version. For the first time, our core features take shape, completing our vision of bringing together the power of AI, automation, and human collaboration into an efficient and effective operation 🚀.
We know that there are numerous solutions and software available. There is still much work ahead of us. However, after extensive research, we understand that fragmented data is a major pain point that hinders long-term growth for businesses. That's why we made it a priority to develop Knowledge Base within a unified platform, offering multiple solutions in one place.
Next comes the importance of streamlining workflows efficiently. Smart Workflow is created to combine the strengths of automation, AI agents, and human interaction, creating a dynamic collaboration that boosts efficiency and productivity.
We have plans to make numerous changes, but for this version, Chative enables businesses to connect with their software ecosystem and retrieve vital data via API and Webhook.
And finally, let's meet our shining star: AI Agent powered by ChatGPT. Building upon our learning from BotStar, our AI Agent is intelligent, adaptable, and operates seamlessly without the need for complex flow building. They quickly learn from your Knowledge Base and provide personalized support to multiple customers, just like a well-trained human staff.
Chative 1.0 is more than just an update; it's an innovative solution for achieving scalability and cost-effectiveness in this tough economic landscape. Let's dive into what the team has tirelessly made over the past two months 🥳.
With Knowledge Base, we are confident that one of the most significant challenges faced by D2C businesses, fragmented data scattered across multiple applications and channels, is solved.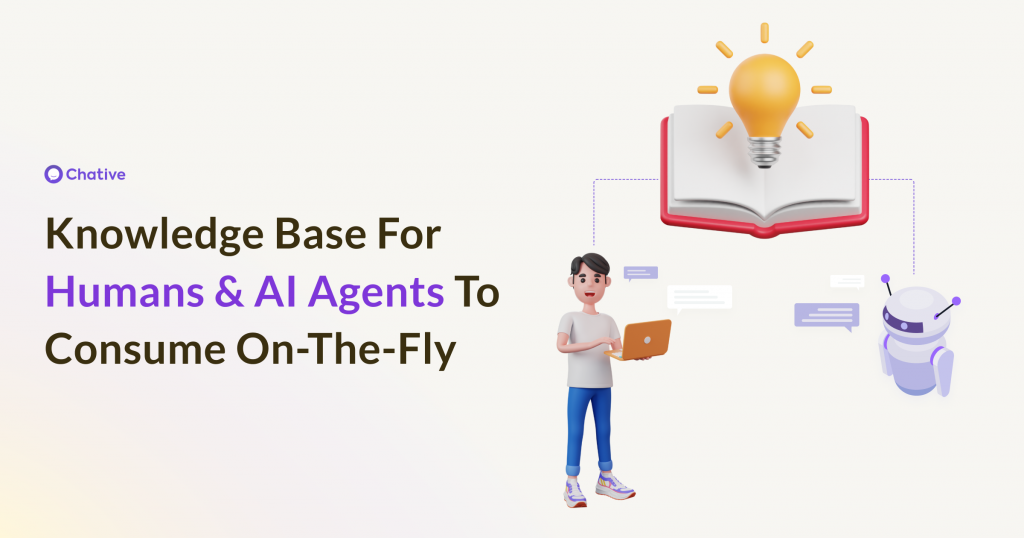 Centralize all your data including company policies, FAQs, product catalogs, and customer details, into one single place
Enables both humans and AI Agent to access, learn, and provide immediate support, reducing time-consuming searches and customer wait times
All information your AI agent will need to provide accurate responses
⚡️ And that's just the beginning! In the next phase, you'll be able to use Knowledge Base directly in your inbox with canned responses and pre-filled answers for swift and accurate customer support. Unleash its power from now on!
With the debut of Smart Workflow, you have full control to create customized rules, events, and actions tailored to your specific needs.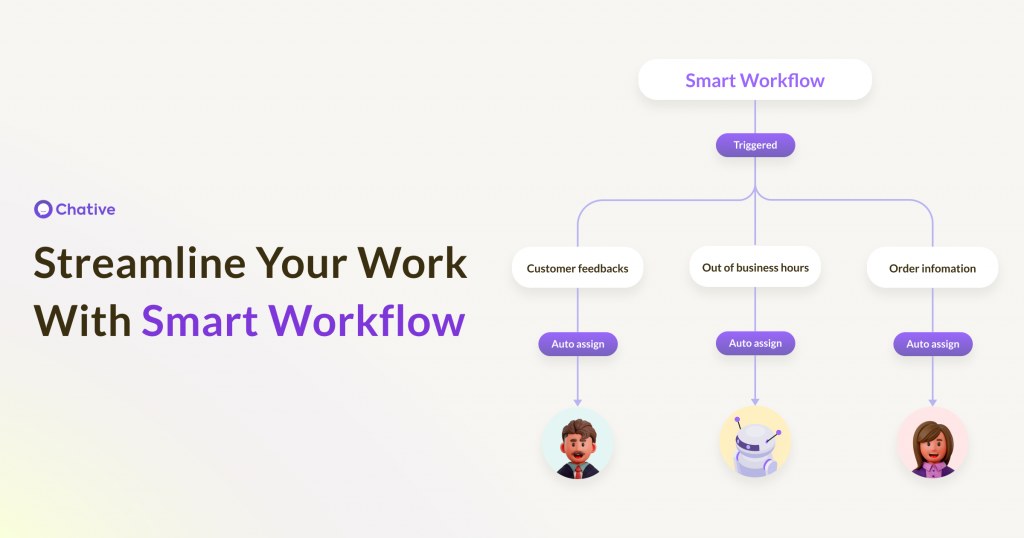 Streamline repetitive tasks without any worries about the constraints of limited resources
Empowers you to handle multiple customers automatically & effectively
We also provide several pre-designed templates tailored for specific use cases that you can implement rules instantly:
Send messages to customers outside of business hours, keeping them engaged while leaving notes for your team about unanswered customers
Proactively follow up with customers after a specific waiting period, showing the thorough care and attention of your team
Remind users to follow up with customers, ensuring that no customer is ever forgotten
Add customized tags to classify customers, enabling personalized and targeted care
Efficiently assign specialized agents to customers with different needs, ensuring that each customer is paired with the most suitable and knowledgeable team member
👉 Discover the magic by giving it a try!
As a messaging platform, we understand the vital role of customers in the success of businesses. Every aspect of Chative, from the inbox and message routing to data management, is designed to serve and optimize the customer experience. This is why we are continuously working on new features to transform customer data into valuable insights such as capturing customer emotions, conducting surveys, and more.
For now, in line with this vision, Chative.IO enables businesses to seamlessly retrieve and update customer contact information through API and Webhook. This ensures that businesses have direct access to accurate and up-to-date customer details, empowering them to make data-driven decisions.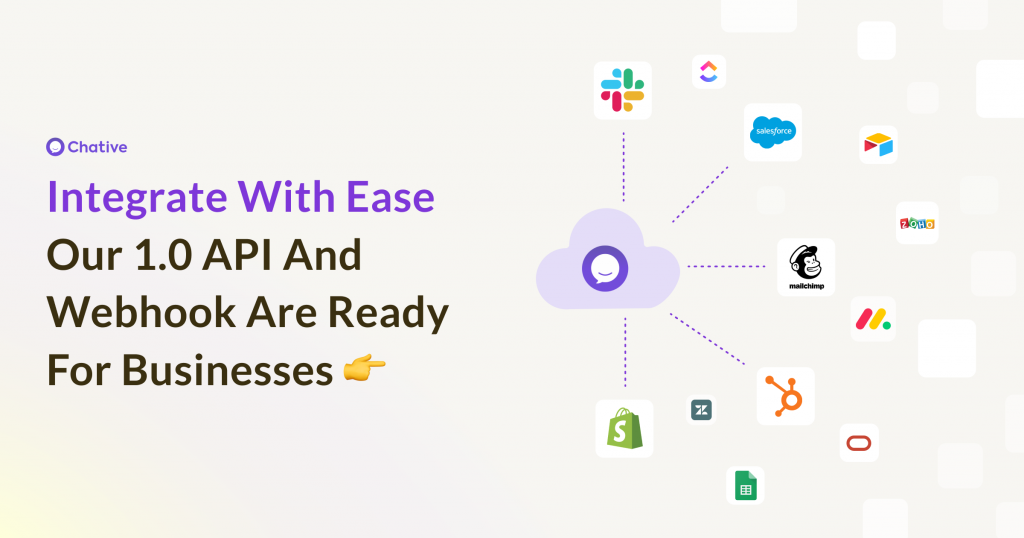 Retrieve and update customer contact information for personalized marketing campaigns, email marketing, and deeper customer care initiatives
Provide real-time notifications about any changes in customer contacts, ensuring that businesses stay informed and aware of their customer base within the platform
Customers crave personalized and flexible interactions with brands, which traditional chatbots with predefined flows fall short of delivering. Recognizing this limitation, our team has invested time in developing AI Agent, powered by ChatGPT, to provide superior and tailored experiences.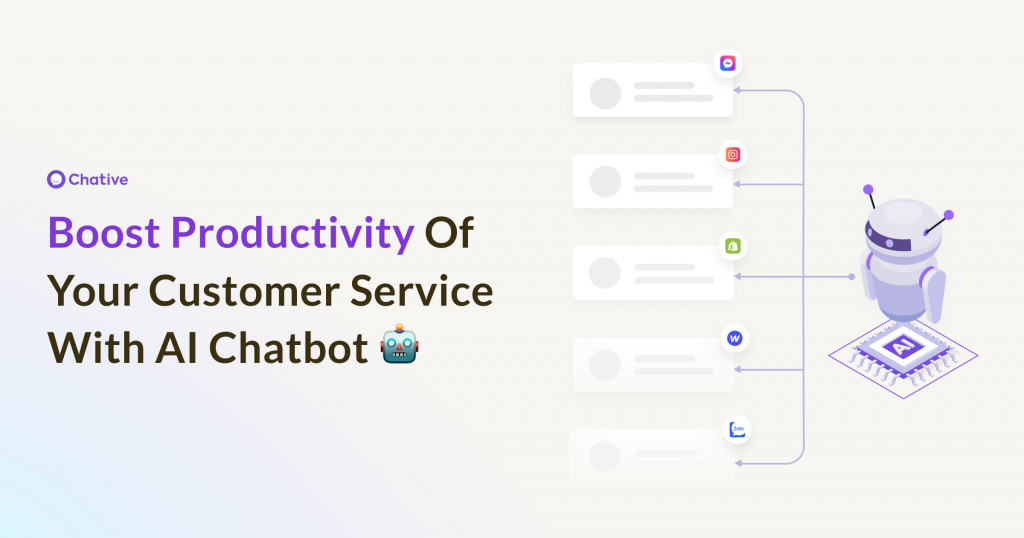 No more tired flow building, AI agents keep them up-to-date by your Knowledge Base
No need to train repeatedly, AI agents get used to KB to deliver natural, flexible, and accurate responses
Cheaper than hiring new members, AI agent is capable of handling higher volumes of inquiries while ensuring a personalized touch during peak seasons like sales events effectively
Decide on tone of voice for the AI Agent that matches your brand identity
AI agent provides responsive customer service outside of business hours, creating a positive and professional image for your business
AI agent drives sales by offering personalized upsell suggestions based on customer insights
Rest assured, we will always continue to enhance the capacity of AI agents as much as possible. You can expect the soon-to-come AI Agent to generate more leads, perform a specific task, and send rich-content messages such as GIF, images, videos, attachments, etc. Let's be the first to experience and feel the difference!
Note: AI agent is an add-on and and are not covered in any subscription plans.
🔮 The Future of Chative: What's Next?
We're just getting started! Stay tuned for future updates that will bring even more exciting features to Chative:
Use KB directly in your inbox with canned responses and pre-filled answers for swift and accurate customer support
Let your customers find the information they need within your public Knowledge Base, reducing the need for support inquiries
More templates and rules customized for specific use cases
Update conversation and organization information in real time via API and Webhook
AI agents generate more leads, perform assigned tasks, and respond with rich-content messages such as images, videos, attachments, etc.
🚀 We Need Your Feedback
This release is not just an announcement of features; it is a genuine reflection of the spirit and dedication of our team. We sincerely appreciate and value your presence from the early versions up until now.
We're committed to improving and providing users with a more powerful platform as much as possible. Sign up for our free trial and explore all the features Chative 1.0 has to offer. We eagerly look forward to your continued support and feedback!