Today, in the digital age, the use of technology in education is required to assist schools in developing and meeting the learning needs of students. Live chat and omnichannel are two critical technologies for assisting schools in providing the best possible support to students.
To understand the significance of live chat and omnichannel in education, we must first understand these two concepts, as well as how to incorporate these two powerful tools into the counseling process, allowing students to be supported easily and effectively. This article will provide teachers and schools with an overview of the benefits of live chat and omnichannel in education, as well as instructions for installing and using these two tools as quickly as possible.
Live Chat and Omnichannel in Education
Live chat is an online tool that allows users to communicate with one another via messaging in real-time. In education, live chat allows students and schools or teaching staffs to communicate directly with each other via multiple websites, even on a computer or phone.
Thanks to live chat, students can request and receive assistance from their schools or teachers without having to meet in person or send an email. This creates an open space for all students to express their opinions, points of view, or to report a problem to the school in a timely manner. Further, it can help improve accessibility and support for students during the learning process, while the institutions can also proactively avoid negative feedback on social media that could harm their images.
Omnichannel means being present in all channels – places where your target audience is interested. Gen Z is very active on online platforms such as websites, social networks (such as Facebook and Zalo), SMS, email, and so on. In fact, most educational organizations have established a presence on these channels, but this is not considered as an effective omnichannel management strategy until all channels are linked together.
Which live chat & omnichannel platform is suitable for education?
To meet the growing needs of students, the school should use a powerful platform that enables live chat and allow users to manage conversations and contacts across multiple channels. As such, we recommend Chative.IO, a live chat and omni-channel messaging solution for global users.
Some of Chative.IO great features include:
The only platform that allows live chat appearance and behaviors to be customized to be consistent with any website.
Streamlines all messages from all channels into a single inbox, allowing teachers and technical staff to respond within the app rather than switching back and forth or logging in to multiple apps.
Includes many performance-enhancing features to improve student support process, such as inviting colleagues from various departments to answer questions related to their profession.
The support team is very responsive, usually responding within a few hours.
Webapp and mobile app versions are available.
Free 30-day trial of all advanced features.
Learn more: 4 Key Reasons Why Institutions Should Use Live Chat
How to install live chat and use the omnichannel inbox with Chative.IO
It only takes a few minutes to set up live chat and be ready to integrate an omni-channel inbox into student support process.
Step 1: Go to the website https://chative.io/vi/ and click "Sign up" or "Log in".
Step 2: Go to the Chative.IO app and select "Channels" from the vertical menu on the left. By clicking the "Create Channel" button, the school can connect to all channels and all messages will be streamlined into a single inbox.
Step 3: In the Installation section, fill in your website URL in the Website section and copy the live chat code in the Copy code section.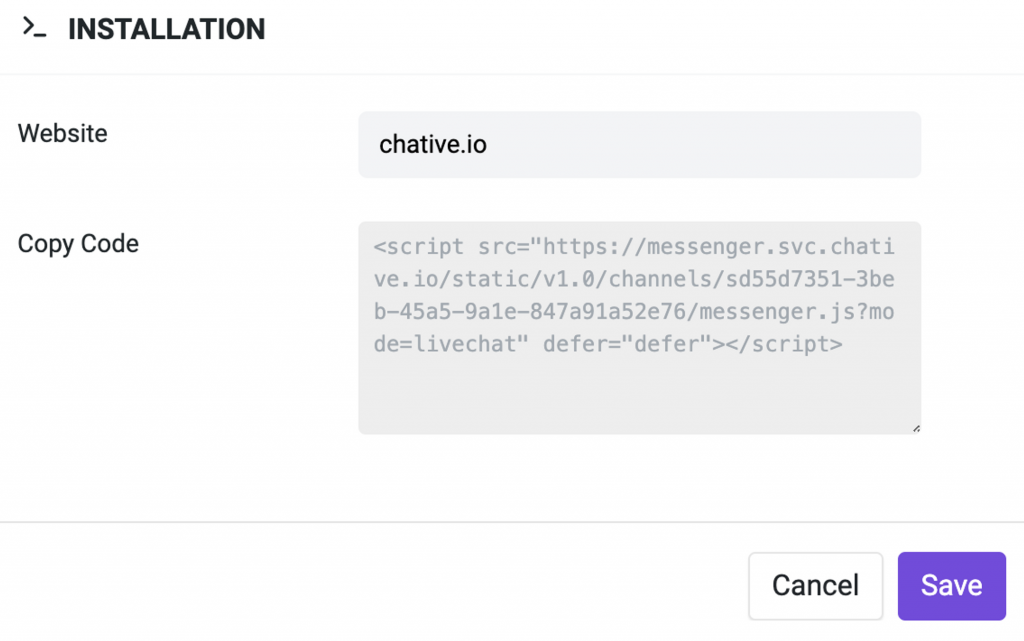 Step 4: Click the Save button for the changes to be applied.
Step 5: Open the source code of your website and paste the copied code right below the <body> tag
That's it, the live chat and omni-channel inbox have been successfully installed. You can go to your official website to review the result the live chat is usually located in the bottom right corner of the page. Teachers can now support all students conveniently and quickly as they visit the school website or other social channels.
In addition, teachers or staffs can customize the live chat window, assign support roles, install multiple languages, and make use of many other features within the app. If you encounter any difficulties, please contact us at https://chative.io/en/contact, the team is always willing to support the most complete installation.
Conclusion
Our team hopes that this article will be useful for schools and educational institutions. Please leave a comment below if you have any questions or suggestions!