Improvement
Let's discuss the daily challenges of managing numerous touch points, each with its stream of customer interactions. It can feel like navigating a crowded city during rush hour – a real struggle.
But guess what? We've got an easier solution!
Now, you can organize your conversations based on customer segments, topics, channels, agents, and more. Here's the thrilling part: Before version 1.0.4, achieving this seamlessly might have been a bit challenging. But today, just click once and instantly access the conversations you need.
Let's dive into the numerous improvements in your inbox!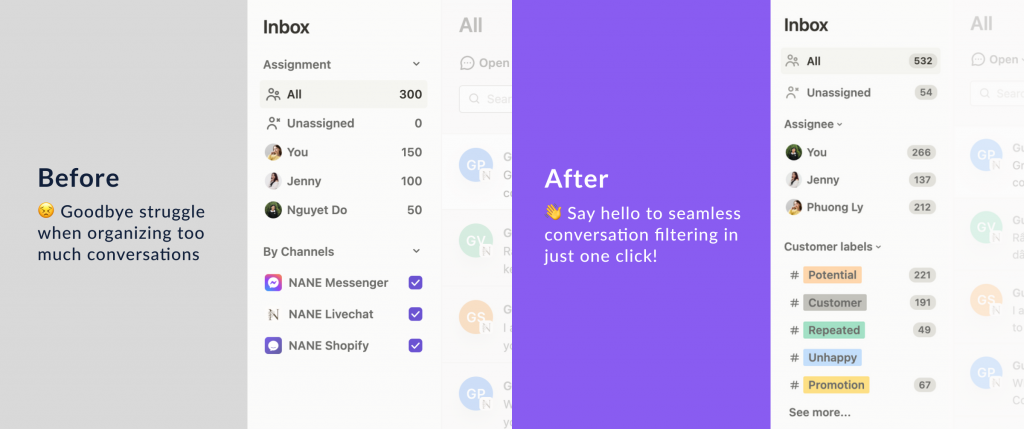 🧭 Enhanced Navigation to Conversations
Previously, the "All" and "Unassigned" conversation categories were tucked away under the "Assignment" section.
But now, these categories have moved to become independent sections within the Quick Access Toolbar. So, you can easily access all your conversations and those that haven't been assigned to any agents.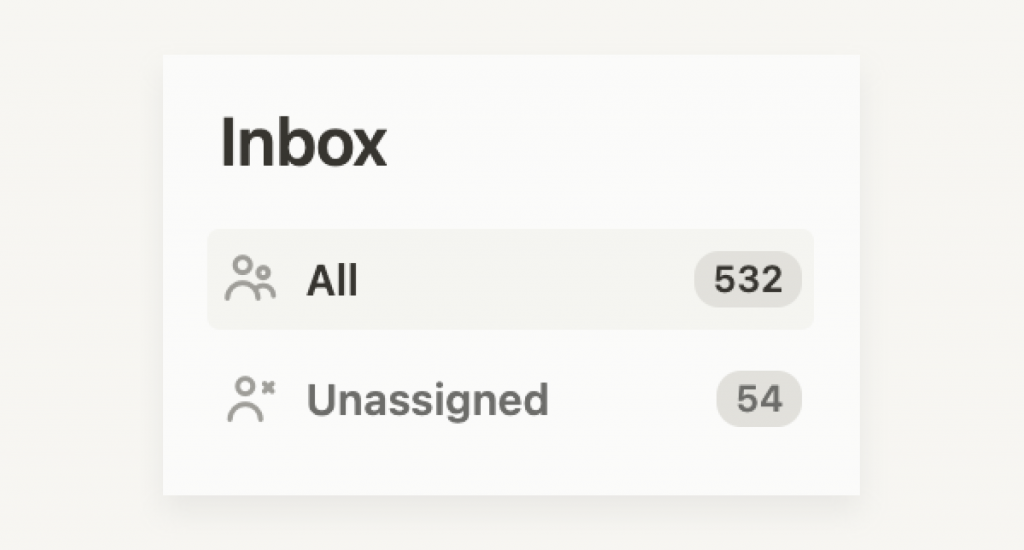 🏷️ Group & Filter Conversations by Customer Segments
Say goodbye to "tags" and welcome "customer labels." We believe "Customer labels" is a more straightforward term that immediately conveys the concept of categorization.
Finding and managing conversations with customers who had specific labels used to feel like solving a puzzle. Imagine clicking through multiple steps just to see a single conversation. But now, right in your inbox, you can effortlessly access all these conversations immediately!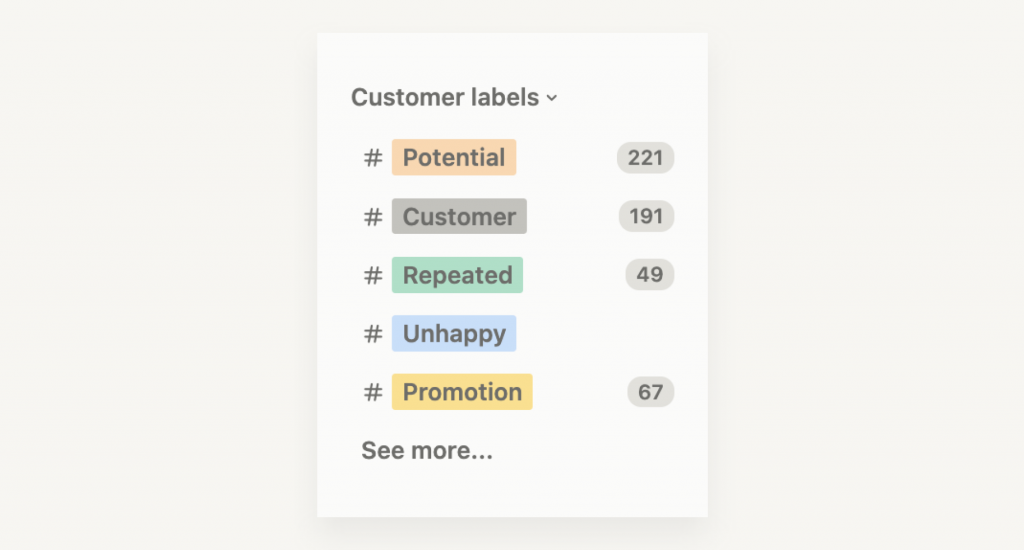 📚 Group & Filter Conversations by Topics
We conducted a survey and learned that many customers want to filter conversations based on topics. Now this new feature is added. You can effortlessly filter through your conversations by their key themes.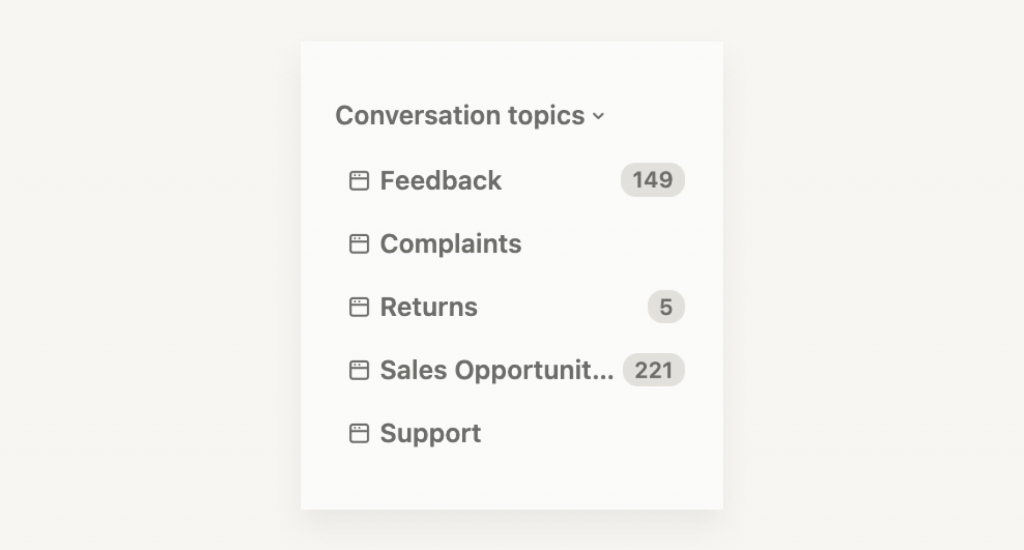 ⏰ Quickly Group Conversations by Channels
Let's say, what if you wanted to see all conversations from just one channel out of 200? Unticking 199 channels one by one is indeed a daunting task. You don't need to select and deselect each channel just to see your desired conversations anymore. It was time-consuming and often frustrating. And in the world of eCommerce, time is money.
Now, it's a breeze! You can group all conversations coming from a specific channel with a single click!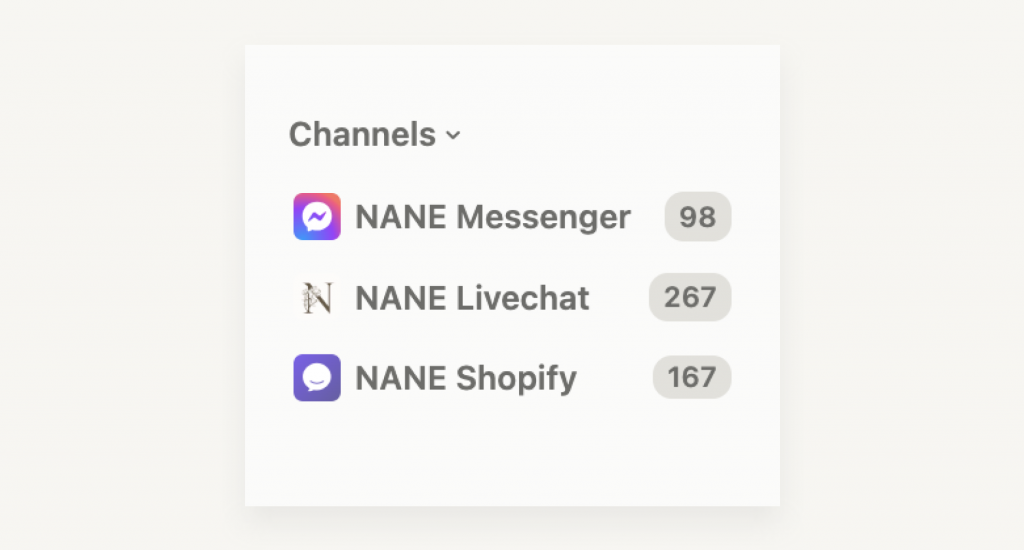 But that's not all!
We want to make sure you have a clear view of what truly matters. That's why we've added the total number of open conversations for each category. This way, you can easily pinpoint where your attention is needed most and resolve customer inquiries efficiently.
However, we've been pondering a question, and we need your insights on this. Would it be clearer and more helpful if the numbers followed the status such as unread, open or closed? Or do you have any other suggestions? Please, let us hear your thoughts in our Discord community, as we continue to evolve and enhance your experience 💞.
Bug fixes
We've been working non-stop to remove any obstacles that could disrupt your smooth experience with us.
No More Offline Message Spam
We heard some of you were worried about your customers getting spammed with offline messages every time they reached out. We completely understand that annoyance and took immediate action to fix it. From now on, your customers won't have to deal with that spam anymore.
Easier Workflow Setup
Do you remember the new Workflow feature we just rolled out? You can create rules to automatically assign new conversations to any agent you want. However, there was a tiny glitch that made it hard to see the assignee's name, but we've fixed it. Now, you can easily spot the name for better management.
Collect Customer Location Information
We believe customer location data is invaluable for personalized connections – speaking their language, reaching out at the right time, and offering location-specific promotions. That's why we fixed a bug where fields like city, IP, and others were previously labeled as 'unknown,' enabling you to deliver even more personalized support.
Smooth Organization Switching
Switching between organizations just got smoother. Now, relevant conversations associated with the selected organization load automatically to make sure that you have quick access to the right chat history.
No more issues with live chat
Blank screen in live chat is now a thing of the past.
Smooth account creation
After signing out, the new account creation process somehow unexpectedly jumped ahead from step 2, bypassing the full 4-step onboarding. Don't worry, your account setup experience is now back on track.
We hope you enjoy using Chative.IO with confidence because we're always here, listening, and taking action to make your experience even better!
What's next
Here's a sneak peek of what's coming next: ✨ WhatsApp Integration ✨.
WhatsApp will soon be joining our lineup of channels. With this integration, you'll be able to effortlessly group and manage all your conversations from WhatsApp, just like you do with other channels. No more switching back and forth, no more juggling between platforms. It's all about convenience and efficiency.
Stay tuned for more exciting updates! 🚀🙌