Picture this: a world where your customers are greeted with personalized, empathetic, and informative responses at every touchpoint. Your AI Assistant becomes an inevitable factor, helping you overcome the barriers of scaling and creating seamless conversations that go beyond mechanical rules. With Chative version 1.0.2, this world is no longer a distant dream – it's the reality we bring to your business.
AI Improvement: Accurate Responses With Tailored Tones Of Voice
The concept of chatbots has come a long way from their early days as mechanical responders. In the past, early versions of chatbots like ELIZA operated on simple rules, providing scripted responses based on fixed keywords. By the 2000s, more sophisticated chatbots emerged, utilizing Natural Language Processing (NLP) and AI technology to make conversations more engaging and human-like.
Over the years, chatbots become common in various online platforms, particularly in customer support and service industries. They are widely employed across websites, mobile apps, and messaging platforms to provide instant responses. According to CCW Digital, 84% of businesses believe chat and messaging bots will become more important in five years, indicating the growing popularity and power of this technology.
Today, we see the advent of ChatGPT with advancements seen in GPT-3 and GPT-4. ChatGPT brings more outstanding capabilities such as understanding natural language, retaining context, and answering flexibly to user inputs. There is currently no end-to-end solution that can completely integrate AI chatbots into business process without limits.
A survey conducted on our 200 business clients showed certain concerns of current AI chatbots:
Robotic and mechanical responses.
Failing to remember previous context and interactions.
Lack of emotional expression in its tone of voice and personalization like addressing the customer by their name.
Do not have a deep understanding of your business tone, voice, value, unique personality, policies, product catalogs, etc.
Can discuss sensitive topics such as politics, which can potentially harm businesses' reputation and credibility.
Unintentionally mention other competitors, which is very problematic for businesses seeking to maintain customer loyalty and brand focus.
Sometimes stop generating answers or provide incomplete responses.
Require complicated and sufficient prompts to ensure desirable answers, otherwise, it will generate generic, untrue responses.
Heavily rely on predefined prompts and incapability to adapt to unique or unexpected queries.
As pioneers in messaging automation for six years, we know our primary duty is to provide a turn-key AI customer service solution, highly adaptable per business, and easy to set up with just a few clicks. We've carefully fine-tuned the AI Assistant to tackle the very challenges highlighted by our esteemed customers.
One of the strengths of AI Assistant in Chative is its natural communication. Through extensive testing and refinement, we have improved the accuracy of its responses. AI Assistant now thinks like you, learns from your Knowledge Base plus customers' details, and generates spot-on responses tailored to your customers' needs.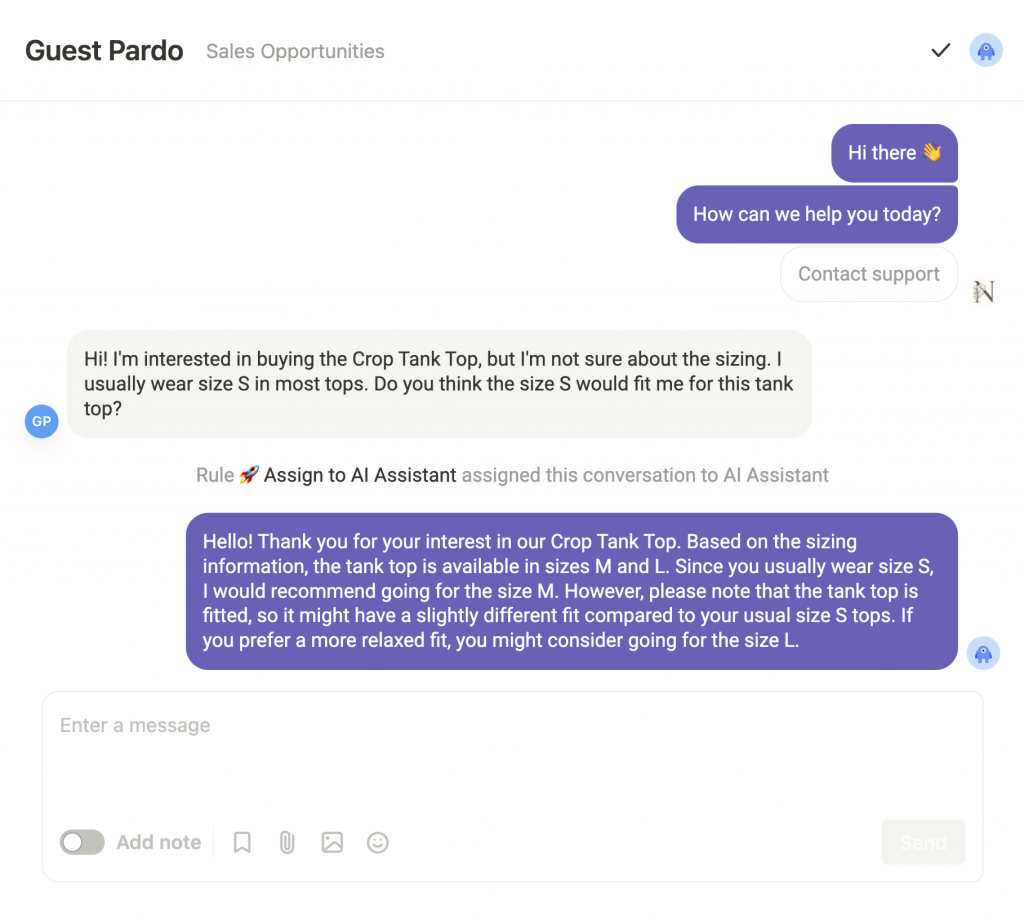 We know that businesses need more than just chatbots; they need empathetic companions that understand their unique voice and brand personality.
A personalized and brand-aligned tone of voice can significantly impact the customer's perception of your brand and create a more engaging and delightful experience. A human-like, friendly, and relatable tone can help build trust and foster stronger customer relationships.
Book a demo now to see your real AI Assistant works!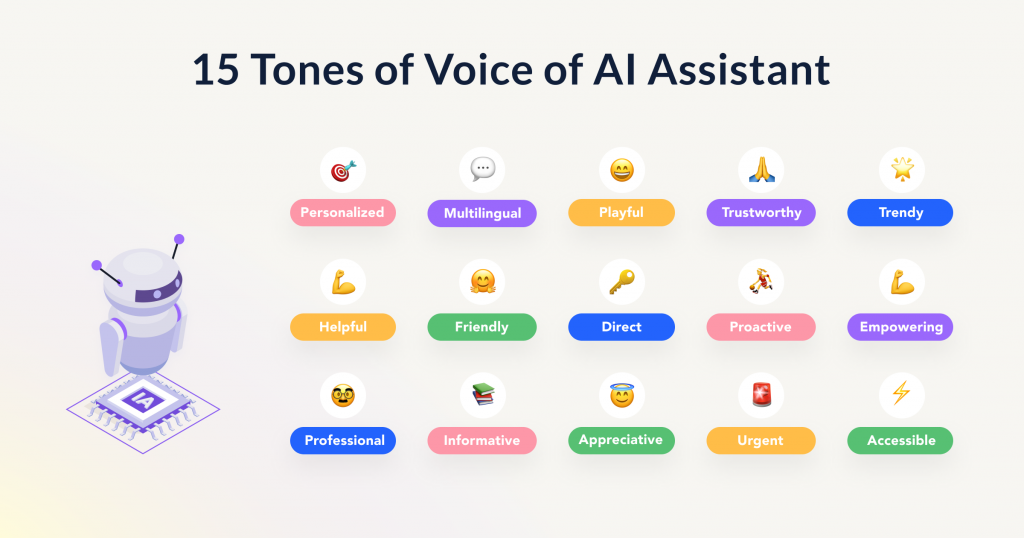 Here is the description of each tone of voice:
Professional: Polite, formal, and business-oriented tone suitable for official interactions.
Friendly: Warm, approachable, and conversational tone to create a friendly atmosphere.
Helpful: Supportive, empathetic, and focused on providing solutions and assistance.
Informative: 'Knowledgeable, educational, and providing detailed information.
Playful: Lighthearted, fun, and engaging tone to add a touch of personality.
Direct: Clear, concise, and to-the-point tone, prioritizing efficiency.
Personalized: Tailored, customized, and personalized tone, addressing customers by name or account details.
Trustworthy: 'Reliable, sincere, and establishing trust with customers.
Proactive: Initiating conversations, offering recommendations, and suggesting relevant products or services.
Appreciative: Expressing gratitude, acknowledging customers, and showing appreciation for their loyalty.
Urgent: Communicating a sense of urgency, especially for time-sensitive issues or limited-time offers.
Trendy: Incorporating current trends, popular culture references, and a modern tone.
Empowering: Encouraging, motivating, and inspiring customers in their decision-making.
Accessible: Simple, easy-to-understand language, avoiding jargon or complex terminology.
Multilingual: Offering communication options in different languages, catering to a diverse customer base.
This improvement reflects the ongoing dedication of our team to create an AI Assistant that are not only knowledgeable but also relatable and helpful.
With AI Assistant becoming more versatile and user-friendly, we can expect exciting developments in the future including proactive order collection and reaching out to more leads in your CRM.
Book a demo now to see your real AI Assistant works.
👩‍💻 In-app support Now Is Accessible to All!
We believe in caring for all our users, and that's why we've opened up in-app support for everyone, absolutely free! No more restrictions on access based on plans – now, every user can benefit from our support within the app.
Your success is our success, and we're committed to providing an exceptional experience for each and every one of you.
If you haven't heard about it before, here is a quick guide for you. Don't hesitate to contact us right away 👇
👥 Meet Your Customers, Not Just Contacts
To resonate with your goals, we've made a delightful change. "Contacts" is now "Customers," a small shift that represents the value of our platform:
Chative.IO is an omni-channel messaging platform dedicated for businesses with the most simple and friendly interface.
We share the same vision and mission with eCommerce businesses – to build strong, lasting relationships with customers and drive increased sales.
Ensuring that you can effortlessly grasp the functionality and purpose of this feature – a social CRM for you to get full customer context.
Establish your social customer lists now and integrate them with your CRM for deeper engagement.
📩 Inbox Redirect: Focus on What Matters
Our commitment to user-centric design has led us to plan for a brand-new dashboard that offers deeper insights and analytics.
But firstly, the traditional dashboard is temporarily hidden. You'll be directed to your Inbox section. You can focus on what truly matters – your messages and communications.
🌟 Intuitive Profiles & Instant Insights!
Listening to your valued feedback, we've revamped customer profiles to be more intuitive, providing essential information at a glance.
Each detail is thoughtfully arranged, empowering you to personalize interactions and drive sales effortlessly. Furthermore, instant topic insights are now clear, ensuring easy access to critical conversation details.
💡 A tooltip will let you know a specific conversation topic instantly if you hover over it.
🐞 Masterfully Squashed Bugs!
Our dedicated engineering team has been hard at work, tirelessly hunting down and fixing bugs. We've left no stone unturned to ensure a seamless, user-friendly experience for you. Say goodbye to issues with typing indicators, conversation URLs, and Knowledge Base content – they've all been resolved!
Inbox
Know if your customer is trying to tell you something
We designed the typing indicator next to the customer's avatar to show when they are typing. However, a user reported that the typing icon (three dots) appeared awkwardly in the middle of the conversation.
We took this seriously and quickly fixed the issue. Now, the typing indicator is back in its destined position. We do everything to ensure that you can interact with your customers across various touch points on the most friendly interface. 💃
See the details of specific conversation
Now you can share a conversation with your team members no matter where they are. Just send them the conversation URL. You all can view the conversation details and discuss instead of getting confused by an empty screen.
Knowledge Base
Page title in the main page will be shown exactly in the left side bar
It was insanely annoying when there was a bug prevented us to direct edit the page title in some pages. Now, you can freely edit the page title either in the main content section or in the side bar. Also, no more empty title after reloading. The title always stays in sync between the content and sidebar!
Your precious content always stays safe and secured
We are so sorry if you got confused if the content of a page in your Knowledge Base mysteriously disappeared when you switched between pages. We fixed that immediately!
With our latest update, switching between pages is now a seamless and delightful experience, without any worries of content vanishing into thin air.
Social Channels
Manage your messaging channels with ease
Good new for users met pop up error when reconnecting or deleting Instagram accounts! No more worries about being stuck with unwanted channels anymore! Plus, the frustrating issue of unsuccessful reconnection has been resolved.
This emphasizes that effortless control and flexibility should be the default state, and Chative.IO is more and more user-friendly.
Global reach with real-time updates!
The world is your playground, and our platform is your gateway to effortless multilingual communication. Connect with customers worldwide, as our AI Assistant offers language options to cater to diverse audiences. Additionally, bid farewell to time zone confusion with real-time updates in email notifications – precise timestamps are now at your fingertips.
We believe in the power of our AI Assistant, along with automation and human collaboration to revolutionize your customer service solution. We want you to feel this belief in every interaction you have with Chative.
Together, we'll build stronger customer relationships and drive increased sales, making every social interaction profitable. This journey is very long, and there is still much work ahead of us, but the current efforts demonstrate Chative has the great potential for growth. We genuinely appreciate users who join us on this path to build Chative together. Every step of the way will be updated in our community.
Thank you all, wish you have a good day!