Have a good day, Chative users!
We're thrilled to bring you Chative 1.0.1, a maintenance update for various enhancements. Your feedback and contributions have been invaluable in helping us create an even stronger and more reliable app. This release is all about improving your user experience and ensuring seamless functionality.
Improvement
Get The Contact IDs At Your Fingertips
We know that contact ID is the first thing you need to retrieve and update customer data remotely using Chative API 1.0. However, as we worked on the API documentation, we realized that something important was missing – an easy way for you to locate the Contact ID. You had to manually copy it from the contact URL.
We know how valuable your time is, and we're committed to making your workflow as smooth as possible. So, although this issue slipped through our initial 1.0 release, we never lost sight of it. With this update, we're excited to announce that Contact IDs are now included in the basic information section.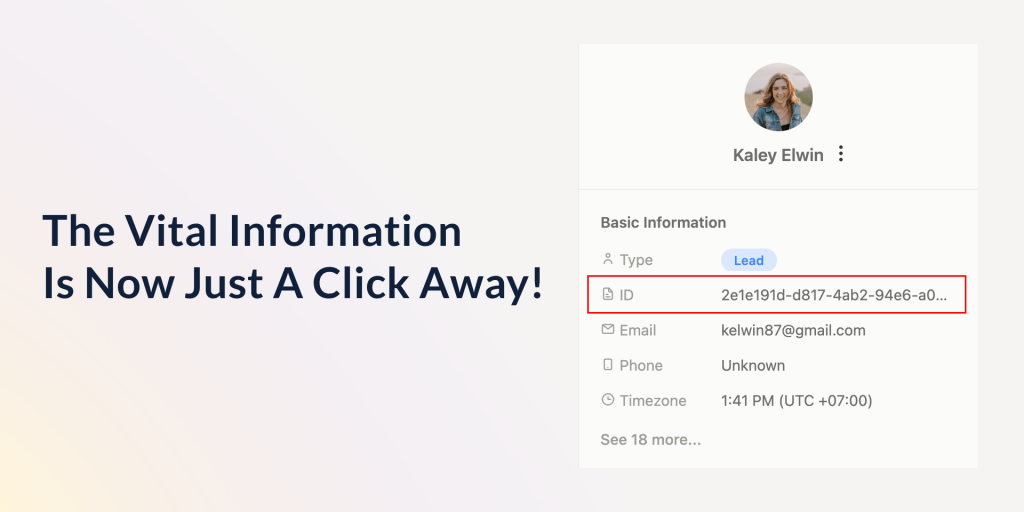 Bug Fixes
No More 404 Error On Login From Landing Page
It's certainly not the best start when your first interaction with an app is an error screen. We took this issue seriously and our team has worked diligently to squash this bug. Now, you can enjoy a seamless and uninterrupted journey with our app.
You won't miss any important interactions
We appreciate how important mobility is to you. Being away from your desk shouldn't mean losing touch with your customers. That's why we jumped in to fix the issue when some conversations were not displaying in the Chative mobile app. Let's engage with your customers anytime, anywhere, with all messages visible!
Expanded contextual memory for AI Employee
In our 1.0 version, we introduced AI Intern and AI Employee, aiming to provide personalized and efficient support to your customers seamlessly and cost-effectively.
But due to the nature of AI, it is inevitable to encounter some errors in terms of its learning and memory capabilities. There are a lot of things that need to be improved but a limited context can hinder its ability to deliver the exceptional level of service you expect. That's why we've invested our efforts in expanding its memory first. With this enhancement, your AI Employee can recall longer conversation contexts, offering more tailored assistance to your customers.
Resolved unexpected 'no information' reply from AI Agent
Our team has been tirelessly testing and monitoring the AI Agent to ensure it's top-notch. We noticed that during AI Agent training, encountering an empty page in the Knowledge Base could cause a glitch. But rest assured, we're on it! AI Agent is now ready and eager to learn from your input in the Knowledge Base.
Offline message was not sent outside of business hours
Sending offline messages outside business hours is an important feature in Chative. Why? Because we believe that your business hours should always be respected, while no message from your customers goes unnoticed. However, we identified an issue that it didn't work for some organizations. Rest assured, offline messages will now be sent promptly.
Some agents could not access to the Knowledge Base
Don't worry if you accidentally could not access to your Knowledge Base. We squashed this bug right away. All agents can now seamlessly access and benefit from the full range of Knowledge Base categories.
Some agents couldn't see loaded conversations
Previously, some agents couldn't see loaded conversations when invited by admins to help with customer support. Don't worry, all conversations are now accessible to all agents. We believe this will drive better teamwork and more efficient customer support for your team.
Resolved Facebook Page connection issue
Some users encountered an error when connecting their Facebook page to their channel. With our latest update, all the pages you have access to will be listed for you to choose and connect.
Message composer sometimes did not show up
We noticed that sometimes, end users couldn't find the message composer to leave their messages or questions. This won't happen again! All you need is to answer them promptly, solve their inquiries and retain your customers.
Restored "send attachments" button in live chat
The "send attachments" button is back! This button allows you to share screenshots, videos, or PDFs during live chats. No more frustration, just easy sharing!
At Chative, our journey is all about growth and improvement. We're constantly updating our app, adding new features, and making it better for you. Your feedback and support are our roadmap—they guide us in the right direction. Let's keep the conversation going!